MOON CAKE BAG
Mid-Autumn Festival is the reunion festival, is one of the traditional culture of the Vietnamese people. Because it brings many meanings and historical origins. Therefore, the Mid-Autumn Festival is always focused by Vietnamese people. During the Tet holiday, the indispensable moon cake is a typical and meaningful cake. It is that until August 15, everyone is eager to buy cakes as gifts. Wanting gifts to become meaningful and elegant, it is indispensable for Mid-Autumn gift bags.
Mid-autumn gift bags are specialized bags for the Mid-Autumn Festival. With cultural designs and images. Besides adding more elegant elegance and meaning when making gifts.
Bags with eco-friendly non-woven fabric and low cost. So bags are chosen by many businesses and shops as gifts. Besides bags designed on demand, so can help businesses spread PR images to customers.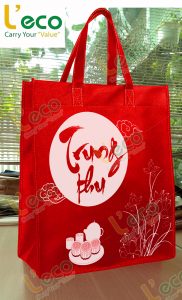 Making a good impression on customers and being able to create an image in the hearts of customers is the benefit that the bag brings.
Mid-autumn gift bags are produced based on customer needs. So, businesses, shops, stores that want to order this gift bag, let us know
+ Size
+ Material
+ Quantity
+ Styles
+ Design and print
+ Color…
We will serve the needs of customers wholeheartedly and satisfy the needs of customers.
Contact us through
Hotline: 0988.647.152 Ms Chang – 0918.760,769 Ms Loan
Mail: info@leco.com.vn
AN VAN THANH PRODUCTION TRADING COMPANY LIMITED – L'ECO
70 Nguyen Van Tao, Long Thoi Commune, Nha Be District, HCMC