Why do high-end clothes need to have garment bags and what features do they bring
Garment bags are used to wrap a lot of suits, high-class clothes, and shirts,… Helps keep your precious clothes clean, free from dust and external harmful agents. Some clothing brands have their own carry bags. So the vest bag will be a good advertising tool for fashion stores.
Garment bags are sewn with materials such as non-woven fabric, and polyester, .. Depending on the needs of customers to choose. Environmentally friendly materials, strong and durable, beautiful appearance, good breathability. Besides being reusable, and hand washable, business information can be printed. The vest bag is very suitable for all companies and clothing stores.
Salient features of the garment bag
* Garment bag is more economical
When the world is responding to the work of protecting the environment and limiting the use of toxic plastic packaging. Then plastic bags began to withdraw from the use of packaging and were gradually replaced with friendly products. Garment bag with environmentally friendly materials, easy to print color patterns on the bag, creating fashionable and lively bags. In addition, it can be used many times, making the use of the garment bag more economical and highly effective.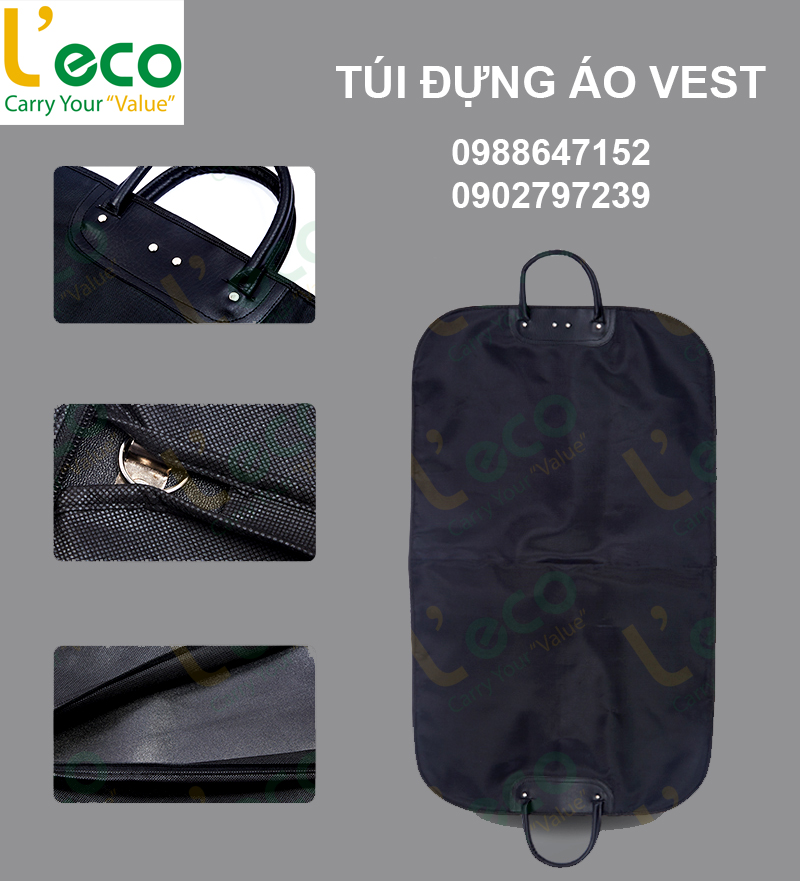 * The garment bag has an additional advertising effect
The garment bag is more than just a packing bag. The delicate look of the bags is made even more special, they transform into a simple stylish handbags when the bag has the ability to fold. That's why we can confidently bring them out without worrying about being cumbersome and difficult to move. That will help the bag reach more customers. Garment bags as a mobile advertising channel to customers, when they see them.
* Preservation of clothes
The vest covers will help you protect your clothes from dust and dirt. Besides they also prevent the deformation of clothes, when they can be hung up in the closet. Make your display closet tidier, and make your display more efficient.
With the outstanding features of the business, you can choose for yourself a vest bag that is suitable for your business. For more information please contact us:
L'eco- An Van Thanh Production Trading Co., Ltd
Address: 70 Nguyen Van Tao, Long Thoi Commune, Nha Be District, Ho Chi Minh City.
Hotline: 0988 647 152 – 0902.797.239
Email: info@leco.com.vn