Canvas Bag
Nowadays, everyone has different needs. And canvas bags (cotton bags) are always associated with the needs of each different audience.
Going to school helps to supplement knowledge, the bag is an indispensable companion for students.
– Going to work helps young people have a variety of samples, which will create comfort when choosing.
– Going out, traveling, …. Then a bag that is both beautiful, cheap and durable is indispensable.
In general, a bag is an essential item of every person when going out. Of all the types of bags, the most popular is canvas bags (cotton bags).
What are the reasons that canvas bags (cotton bags) are popular?
Canvas bags (Cotton bags) are made from cotton yarn or a combination of cotton and polyester fibers. So the material is soft, light, environmentally friendly and cheap.
– Canvas bags (Cotton bags) are very diverse, currently we have been manufacturing burlap bags such as: digital printed burlap bags, burlap crossbody bags, burlap cosmetic bags , plain canvas bags, canvas bags with leather and cotton blends, high-grade burlap bags (for business gifts), fashion bags (youth). In addition to common designs, we also support customers to design according to the individual needs of each customer.
– Canvas bag (cotton bag) can be reused   many times, light hand wash   hang dry can continue to use, no allergy. Light weight so it is easy to carry, bringing convenience.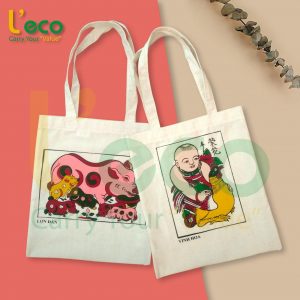 Canvas bags (cotton canvas bags)  with logo printed are always the perfect choice for brand advertising, marketing activities and exposure to environmental protection campaigns. Therefore, burlap bags (cotton bags) have been widely used and received a lot of love from consumers, satisfying even the most demanding customers.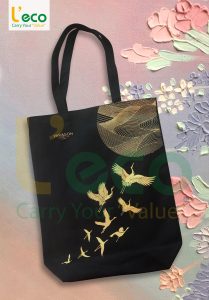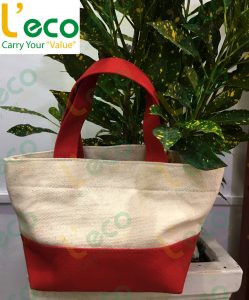 Canvas bags (cotton bags) are checked at each stage and carefully selected from raw materials, cutting, sewing, printing before reaching customers and users.
** Pictures at the canvas bag sewing factory – L'eco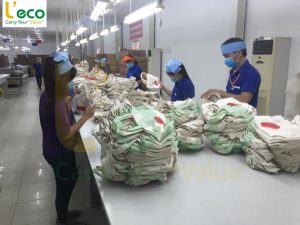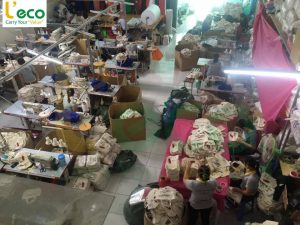 Customers can contact L'eco by the following contacts:
L'eco- An Van Thanh Production Trading Co., Ltd
Address: 70 Nguyen Van Tao, Long Thoi Commune, Nha Be District, Ho Chi Minh City.
Tel: 091 876 0769– 0988 647 152
Email: info@leco.com.vn