Wine Bag
** The appearance and importance of the wine bag
In today's industrialization and modernization life, people often prefer compact, cost-effective, fancy design bags that can be conveniently moved and given as gifts. So non-woven bags, burlap bags, etc. appear and are welcomed by many people because of the utility and use it brings.
Wine is a precious item that individuals, enterprises and businesses choose to give as gifts. However, transporting them is also very difficult because they are very fragile when impacted with the surrounding environment, so the wine bag appeared to help solve the dilemma.
**Material, design of the wine bag
How to create a quality, cost-effective product, while ensuring the safe movement of wine bottles?
To solve the above problem, L'eco offers wine bags with the following parameters:
– Fabric material: non-woven fabric, canvas
– Quantity: 70 grams, 80 grams, 90 grams, 120 grams, …
– Color: optionally, customers can choose any color they like to match the style of the store
– Size: optional, designed and made according to customer requirements
– Printing: can print any information customers require. Print logo, company information, slogan…and can print one side, two sides, one color or many colors…
– Load capacity: 3-5 kg
Non-woven fabric, burlap has the common advantage of being soft, light, durable, diverse in colors and designs, this is a great material to design wine bags that are perfect for shopping. Protect your precious bottles of wine.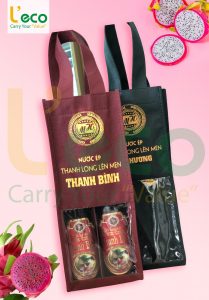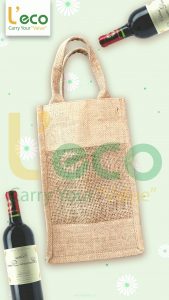 In order to meet the needs of customers in addition to storing wine, L'eco also researches and creates bottles containing essential oils, perfumes, cosmetics, etc.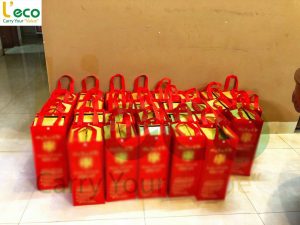 L'eco is logo printing, specifically designed on wine bags, has been chosen by many businesses and wine shops to use. Help businesses advertise their brands effectively and save costs.
All products are manufactured and made according to customer requirements including color, size, information printed on the bag and 100% QC checked by L'eco before reaching consumers.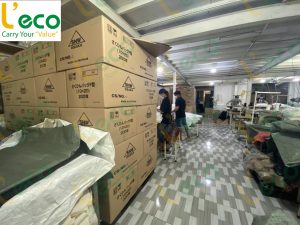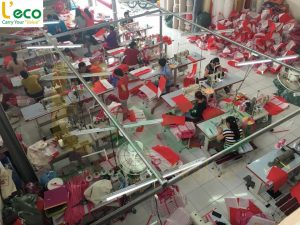 If customers have a demand for our products, L'eco is proud to affirm that it will be a reliable place for customers to give their trust.
Best regards!
Customers can contact L'eco by the following contacts:
L'eco- An Van Thanh Production Trading Co., Ltd
Address: 70 Nguyen Van Tao, Long Thoi Commune, Nha Be District, Ho Chi Minh City.
Tel: 091 876 0769– 0988 647 152
Email: info@leco.com.vn