Non-Woven Bag
Non-woven bags become familiar in our daily life. They appear more and more widely at conferences, shopping malls, public places, …… From consumers to business organizations, the important role of non-woven bags can be seen. Therefore, the demand is increasing day by day.
Why are non-woven bags so well received by so many people? What are non-woven bags?
Non-woven fabric is a synthetic fabric from Polypropylene, i.e. synthetic resin. Polypropylene beads are heated to melt and then stretched into long fibers. The long fibers are held together by mechanical heat or solvents to form fabrics. The essence of non-woven fabrics is that they are pressed into sheets and built into bags called non-woven bags.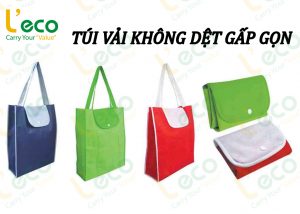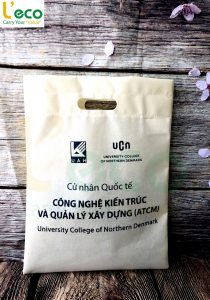 The special features of non-woven bags:
+ Lightweight: can be easily carried anywhere without taking up much space
+ Hypoallergenic, no harmful chemicals
+ Dry and breathable
+ Can be reused, when finished, you can hand wash and dry for continued use.
+ More environmentally friendly than plastic bags, the decomposition time is much shorter.
Non-woven bags are widely used in life and business. Each company has different usage needs, so choose the appropriate bag model. Below are the bag models that L'eco recommends for customers.
In order to have a canvas bag that meets the customer's requirements, it must be based on the following factors
– Dimensions of the bag: Height x Width x Width
– Design: flat bag, box bag, zipper, extra compartment, drawstring…
– Fabric thickness: 80gsm-120gsm
– Information printed on the bag: how many colors, side, printing technique
– Number of orders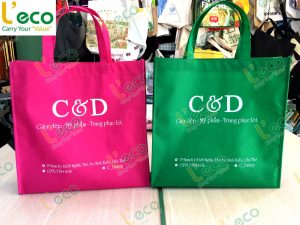 Choosing to use non-woven bags at L'eco is not simple to store products but also an extremely effective brand marketing method that is often applied by businesses in the past time. With a printed pattern design for environmentally friendly non-woven bags, the convenience, elegance, and fashion highlight your business' brand image will impress consumers.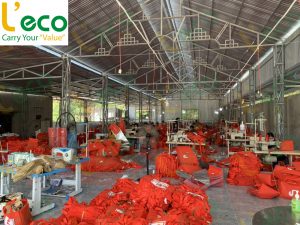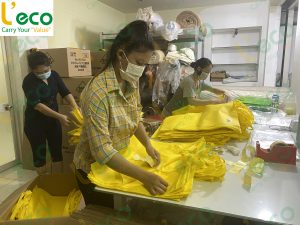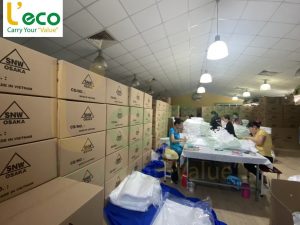 L'eco products are manufactured and made according to customers' requirements including color, size, and information printed on the bag, and 100% checked by L'eco before being delivered to consumers.
If customers have a demand for our products, L'eco is proud to affirm that it will be a reliable place for customers to give their trust.
Customers can contact L'eco by the following contacts:
L'eco- An Van Thanh Production Trading Co., Ltd
Address: 70 Nguyen Van Tao, Long Thoi Commune, Nha Be District, Ho Chi Minh City.
Tel:  0988 647 152
Email: info@leco.com.vn