Polyester Bag
Until now, consumers have been very fond of natural fabrics such as silk, cotton, wool, etc. However, sometimes these materials are difficult to maintain, expensive and not durable. Therefore, manufacturers have produced a variety of fabrics with synthetic materials from highly applicable man-made fibers. Typically, it is polyester fabric, a popular and widely used fabric. Because polyester fabric is useful, the fabric is used by many manufacturing businesses. In particular, polyester bags are very interested and favored by many people.
So what is a polyester  bag?
Polyester bags are made from  a synthetic fabric with a characteristic composition of ethylene. The chemical process that produces finished polyesters is called polymerization. There are four basic types of yarn: filament yarn, polyester staple fiber, polyester staple cotton and fiberfill. Polyester is widely used in the industry to produce all kinds of products such as clothing, backpacks, bags, household furniture, industrial fabrics, insulating materials, cushions, etc. Polyester yarn has many advantages when compared with traditional fibers.
Advantages of polyester canvas bags
– Can be washed by hand or by machine
– Good anti-wrinkle
– Light weight, has the ability to dye a variety of colors, clear colors.
– Durable
– Thanks to the feature of not absorbing moisture but absorbing oil, it is suitable for waterproof, dustproof and fireproof applications.
– Low cost, high cost saving.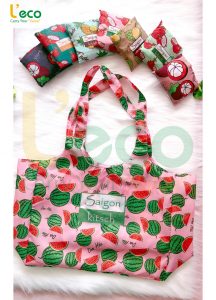 In particular, the bag is designed to be folded, when used, the bag is in the shape of a normal hand bag, with a small compartment in the front. When not in use, you can fold it up to only 19cm long, 8.5cm wide, the bag is sewn firmly.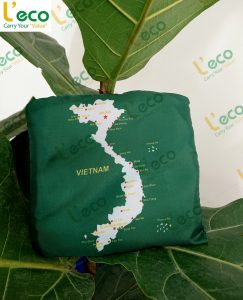 Folding polyester canvas bags are made from many different quantitative materials. Print design colors according to customer needs. That is why many units and brands use this bag to store products, customer gifts, etc.
L'eco products are manufactured and made according to customer requirements including color, size, and information printed on the bag. Fabric bags are 100% QC checked by L'eco before reaching consumers.
If the customer has a need for our products. L'eco is proud to affirm that it will be a reliable place for customers to give their trust.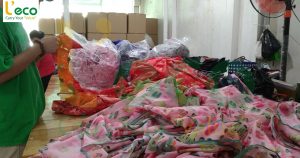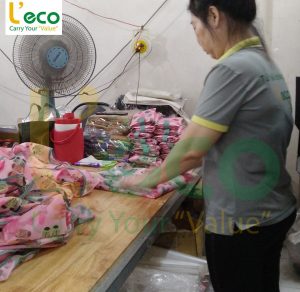 For any information that needs support, quotation advice, please contact us through the following information:
AN VAN THANH PRODUCTION TRADING COMPANY LIMITED
Address: 70 Nguyen Van Tao, Long Thoi Commune, Nha Be District, Ho Chi Minh City
Phone number: 0988 647 152 – 0902 797 239
Email: info@leco.com.vn