CANVAS AN NAM GOURMENT BAG
With the trend of using environmentally friendly bags to replace plastic bags. An Nam Gourment client selected L'eco to execute its business strategy. Aim for a green, clean, beautiful environment.
An Nam Gourmet canvas bag is a trusted product. Because of the convenience of the bag, it is both environmentally friendly and fashionable.
The bag is made of canvas material in opposite white and black colors. The size 44cm – Horizontal 39cm helps users to store many personal items and items.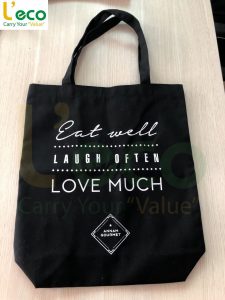 Easy-to-decompose fabric bags, which are superior to other common fabrics in durability, elasticity and aesthetics.
Simple but canvas bag is extremely convenient and easy to combine with all everyday clothes.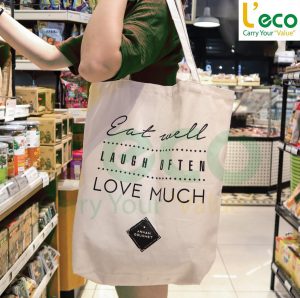 Using cloth bags is a small, practical act that contributes greatly to protecting the environment.
Besides, L'eco also offers many environmentally friendly products to meet life needs.
Need cloth bags, contact us immediately
Hotline: 0988,647,152 Ms Chang
Mail: info@leco.com.vn