Christmas gift bags
The Christmas atmosphere is rushing back, many people are busy preparing for the atmosphere to welcome Christmas in 2022. During the preparation process, gifts are indispensable during the Christmas holiday season. Meaningful contributions to show love and affection for each other. To create unique gifts, our beautiful small gift bags are indispensable. A Christmas gift bag carries meaning and creates a highlight throughout the holiday season. In addition, in terms of business, Christmas gift bags attract many customers. When using them as an effective and economical advertising tool.
To be able to do that, it is necessary to invest and learn the fabric bag sewing factory according to customer needs because tailor-made factories will provide you with all the detailed information and satisfy all your needs about this gift bag.
They will help you choose the right and suitable fabrics. In addition to the material, they also help you design impressive Christmas images that will attract everyone. Besides, the main colors in the Christmas season are usually red and blue. Based on that, the gift bags will become brilliant in color schemes and design images.
Many businesses and shops use Christmas bags to promote their brands. Besides helping to create impressions and highlights for stores. Help them increase revenue and promote marketing and advertising in a superior way.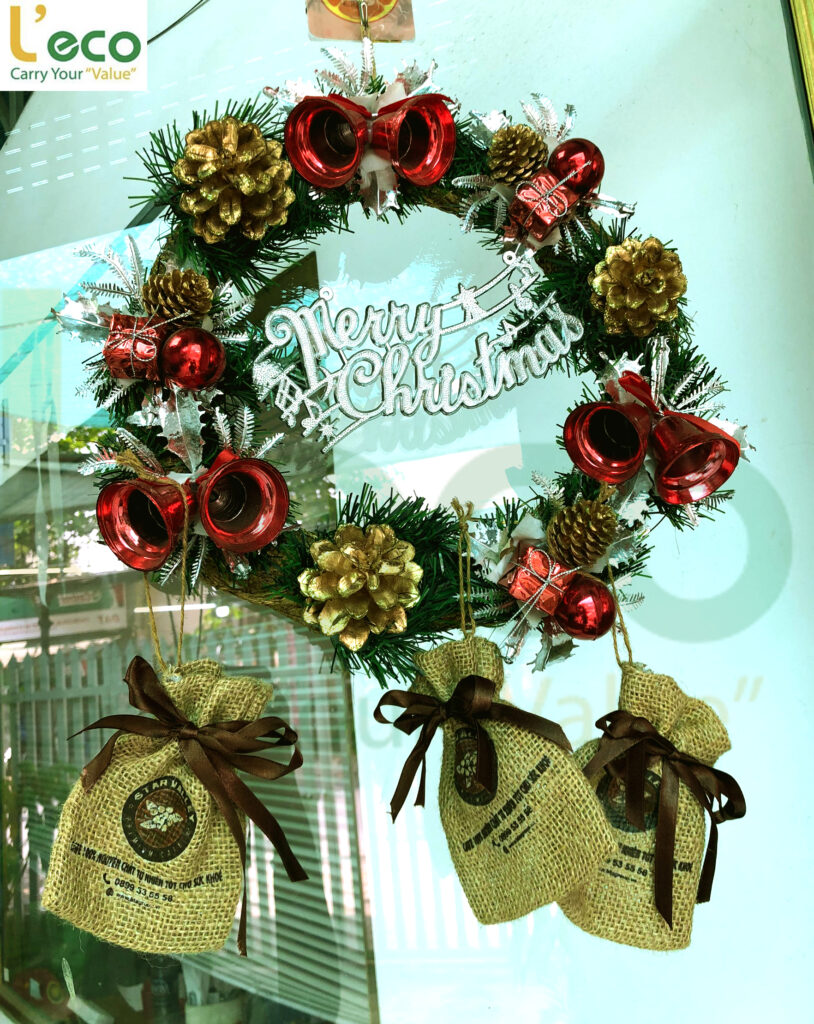 Usually materials such as non-woven, paper, canvas, .. are used a lot in making Christmas gift bags. Because they are environmentally friendly, they can be easily decomposed and contribute to environmental protection.
To find a reputable garment factory in Ho Chi Minh City that can supply and satisfy all customer needs. You can find more information below:
Specializes in supplying and manufacturing canvas bags according to customer needs. With 14 years of experience in manufacturing and exporting canvas bags. L'eco can meet all your bag needs for businesses and shops. Ensure product quality and create a reputation for businesses.
Our bag products include:
+ Non-woven bag
+ Canvas bag, dad
+ Polyester fabric bag
+ Jute bag
+ Laminated PP bag
+ Vest bag
+ Cosmetic bag
+ Bedding bag
+ Wine bag
+ Gift bags, conference bags, events
+ New Year gift bags, Tet calendar bags,…
All of our products are manufactured according to the needs of our customers. Helping customers get the most impressive and satisfying products. L'eco always focuses on the values ​​of life and the environment to join hands to protect the beloved environment.
Please contact us through
– Hotline: 0988.647.152 – 0903.696.477
– Mail: info@leco.com.vn
– Workshop: 70 Nguyen Van Tao, Long Thoi Commune, Nha Be District, HCMC.
– Learn more at Fanpage: Non-woven bag – L'eco
– Tumblr: Canvas Bag