COSMETIC BAG FROM JUTE FABRIC
In order to diversify in each product, L'eco is always aiming for novelty and originality. For customers to have more options in each product. For women, in addition to a bag that holds many important and necessary things to go out. Then there is an extremely important one that is the cosmetic bag.
Nowadays, beauty work is always interested by both men and women. Anyone who goes outside will bring cosmetics to take care of themselves.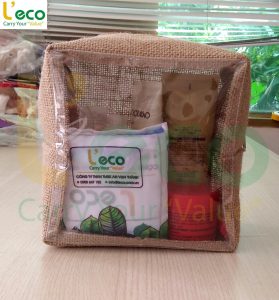 Cosmetic bags help people to carry cosmetics out neatly. Currently on the market there are many different cosmetic bags such as cotton, non-woven, PVC,….
So do you have a jute fabric cosmetic bag yet?
A handbag in vintage colors for the user. The bag gives users a sense of elegance and elegance to use.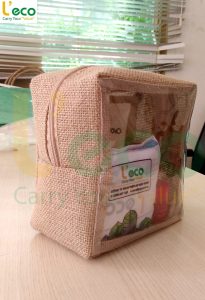 This simple yet very handy bag might fill your beauty world. In addition, the bag also has the ability to print information and customers can design their own way. To own this bag,
Please quickly call the hotline number: 0988.647.152 Ms Chang – 0902.797.239 Ms Ngoc
Or send information via mail: info@leco.com.vn