ENVIRONMENTALLY FRIENDLY HEAT PRESS BAG PRODUCTION
Heat press bags are manufactured using modern and advanced machinery technology. Use high heat to press heat to form bags. Rather than using conventional sewing methods. This makes the bag a lot cheaper.
Because heat-press bags are manufactured based on modern machinery and equipment. Therefore, bags are produced quickly and at least costly. Compared to traditional sewing, it takes time, manpower and cost of bag production.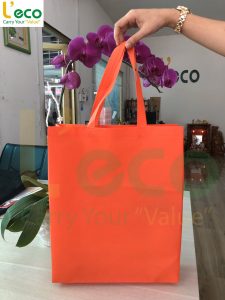 Each of these bags has pros and cons. So this bag also has its own advantages and disadvantages.
Advantages
+ This bag has high durability, air release
+ Non-toxic, non-allergic to human health.
+ Environmentally friendly bag, capable of rapid decomposition and reuse many times.
+Light weight
+Save costs and completion time.
Defect
+ The bag is pressed together by heat so it is not sure by seam
+ Easy to tear and damage if not well preserved
In addition, this bag is very suitable for the needs of giving gifts or packaging products in business activities. In conferences, sales, seminars, promotional gifts, …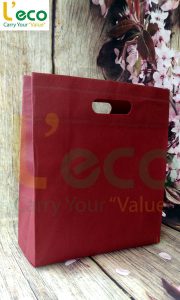 To own this bag, you need to provide it to us
Bag size: height x width x hip

Fabric color Fabric quantity: 50-120gsm

Information to be printed on the bag: name, logo, slogan, phone number, … 

Order quantity
Just the basic information above we will advise and support you. Please contact us via hotline: 0988.647.152 Ms Chang or Mail: info@leco.com.vn for advice and quotation.