How to choose a meaningful and unique 2022 Tet gift bag
Giving Tet gifts is one of the customs still preserved to this day. Gifts on the Tet holiday bring good wishes to the recipient. This is also the time when businesses and stores carry out branding campaigns. So not only Tet gifts but also Tet gift bags are very important. Because this is a tool that businesses can save impressions on people. So how to choose a gift bag for Tet 2022?
To be able to choose a suitable and meaningful Tet gift bag. First, you must choose the material, size, printing, color, and design, …. Then there is finding a suitable production facility.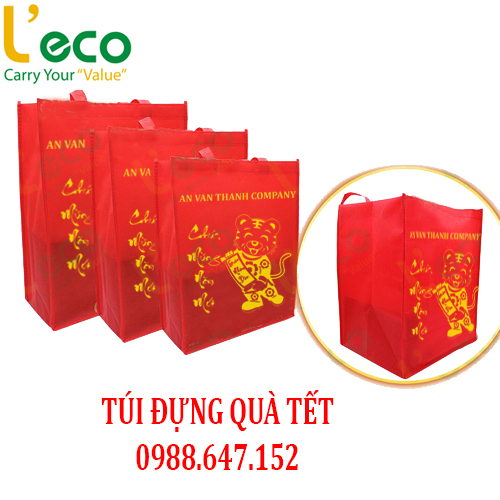 STEPS TO DETERMINE THE TEST GIFT BAG 2022
The material that makes the bag is also very important, on the market, there are many different materials. Usually used a lot are non-woven bags for Tet gifts, Tet gift bags, and jute bags,… Because these materials are very environmentally friendly and bring a luxurious beauty.
– Size is also an important evaluation measure. To determine the correct bag size, businesses need to determine the weight of their gifts and what they include. Based on the above we will determine the appropriate bag size. To avoid the bag being too big or too small when storing gifts.
– The colors and designs make the 2022 New Year gift bags attractive to everyone. With the Tet season to express auspicious things, people often choose red, yellow, blue, etc. The vibrant colors help bring more atmosphere to the traditional national New Year.
Printing: This is important to help businesses leave an impression on people. The information printed on the appropriate bags can both show the brand and bring the good messages that the business wants to convey.
Finally, choose a reputable manufacturer. A reputable supplier will help create trust and ensure all problems about the goods. And only products with clear origin and provenance are trustworthy.
To get detailed information and answer questions about gift bags for Tet 2022. Businesses can directly contact L'eco through:
Hotline: 0988.647.152 – 0902.797.239
Mail: info@leco.com.vn
Fanpage: L'eco Non Woven Bag