IMPORTANT THINGS IN THE DESIGN OF THE PAPER BAG MODEL
In business, competition is inevitable. Eel businesses want to gain advantages and benefits for themselves. Therefore, promotional paper bags are a strategy that many businesses are using.
The use of advertising paper bags will bring high profits and save costs. But to be successful in advertising is the design in the pocket. This is the most important method of success.
Because the pictures designed on the bag will easily impress customers. Leave an unforgettable imprint, which will make customers remember longer than the business.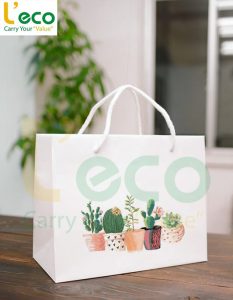 So how to design the most effective image?
To be able to save a deep impression on customers needing.
+ Business information: so that customers can remember the company name
+ Company logo: so that customers can identify the business
+ Photos: make the bag look special and make it easy to save the special impression.
+ Phone number, contact information: so that customers can contact the business.
+ Slogan: A concise, concise sentence will help customers impress.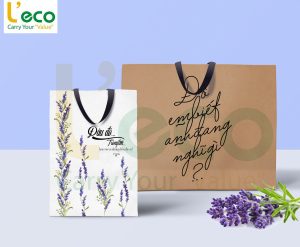 In addition to the above information, businesses need to determine colors and designs. Because this will help the paper bag become perfect and fashionable.
Besides choosing the size and quantity of paper bags. For businesses to save costs.
If the business has no idea for this paper bag. Then contact us immediately. We offer free design support before making samples to satisfy our customers most.
Contact us via hotline: 0988.647.152 Ms chang Or send information to Mail: info@leco.com.vn
We are pleased to accompany and support you.