NEW FASHION SUPPERBAGS FOR SHOPPING
In the old days, when the image of a woman carrying many plastic bags when she went to the market was so familiar. On average, there are 3 to 5 wrapped plastic bags a day to go shopping and for the whole year it is estimated that over 1 million bags have been disposed of. So when a country, hundreds of millions of plastic bags are discarded. Those are the most alarming causes for the environment. Nowadays, to change the use of plastic bags, many women believe in supermarket bags (PP lamination) for shopping.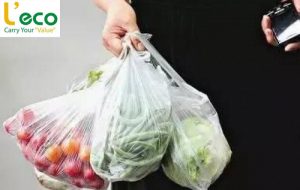 Supermarket bag (lamination PP) is woven and coated with an OPP film, so it increases the strength, is resistant to water, moisture, and can withstand great weight. Supermarket bags (lamination PP) made from woven and non-woven PP are considered the first choice when businesses want to replace plastic bags.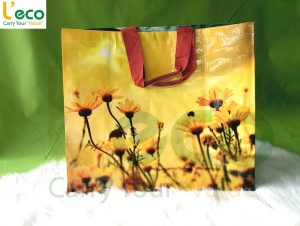 Nowadays, supermarket bags are not just for storing food products, but also a fashion bag for many women every time they go to the supermarket, go to the market …
– To ensure receiving a satisfactory and effective product, when designing the business, the following should be noted:
First determine the bag size

Second, choose dominant colors to match your branding

Third, the image is clear and harmonious because a bag with customers moving many places means your brand is more accessible to more people, so it is important to choose carefully.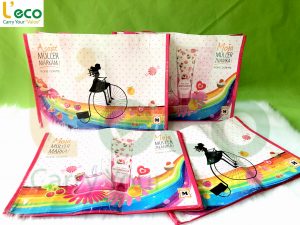 -For us you can be assured of all factors of quality and price.
– At L'eco, the customer will:
Design consulting dedicated, free

Owning impressive and fashionable bags

Environmentally friendly materials, reducing the amount of hard-to-decompose waste
Commitment from quality to quantity.
For more information about the product , call immediately
Hotline: 0988.647.152 Ms Chang Or mail: info@leco.com.vn