THIN BAG TREND 2021
Thin and light pockets with simple design are currently "HOT". Along with the simple style, fresh motifs help to attract many young people.
As for the bag design, there is no difference with other conventional bags. But the highlight is thinner and lighter, able to mix many different clothes. Not to mention the affordable price, lower price than other bags.
There are many different types of pockets on the market. But with the new features, thin pockets were more popular during the year.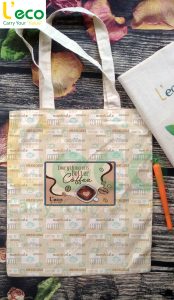 Depending on your personality, you can mix in your own style. Create a new wave in the year 2021
To order your own bag, please let us know
Bag size: depending on the body shape but different sizes

Design: This is the place to show your style

Color: Please choose a color you love. And choose colors that can be easily coordinated.

The amount you need to do
Just with that information L'eco will provide you with the best quality and suitable bags for you.
Please contact us via hotline: 0988.647.152 Ms Chang Mail: info@leco.com.vn
In addition, we also have many other products for customers to choose from
-Non-woven bags
-Canvas bag
-Polyester bag, foldable bag
– Jute bag
-Packed PP bag., ….