THIN NON-WOVEN BAG FOR FASHION INDUSTRY
Thin non-woven bags are found in many fashion shops from clothing, shoes,…. Especially the fashion brands are very fond of this product.
So why are nonwoven thin bags favored by many fashion brands?
– The first thing to find out is the material of a thin non-woven bag. Thin non-woven bags are made from Polypropylene into non-woven fabrics weighing 12gsm – 50gsm.
– Soft, thin, light and durable are the advantages of this bag. The bag is also reusable and biodegradable
Reusable: it can be used many times less damaged and torn than disposable bags. Help protect the environment and better handle waste.

Degradability: bags are biodegradable within a few months. The decomposition time is much shorter than plastic bags.
– Special bags can be printed on the surface of the bag with clear brand names, sologan sentences and company information. Create a marketing strategy favored by many big brands.
– Create more elegance and elegance of the company's products, fashion shops, … in the packaging.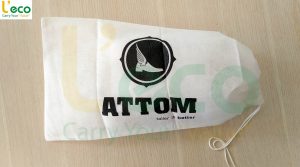 Currently on the market there are many styles of thin non-woven bags. But many customers and fashion shops choose to be thin non-woven bags with drawstring. Because of the convenience of product packaging.
Thin non-woven bags with drawstring 1 side or 2 sides, depending on the needs of customers to choose. Depending on the product, the thin non-woven bag also comes in a variety of sizes.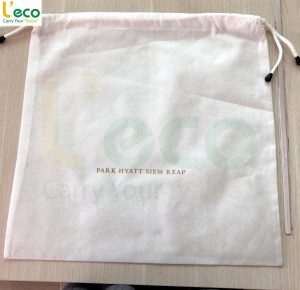 For a thin non-woven bag on demand. Please contact us immediately via: Hotline 1: 0988.647.152 Ms Chang
Hotline 2: 0902.797.239 Ms Ngoc
Mail: info@leco.com.vn
Or Link fanpage: https://www.facebook.com/TuiVaiKhongDetLeco
Best regards!