What's unique about L'eco's cosmetic bags?
L'eco is a factory that sews cloth bags directly without intermediaries, the main base is located in Ho Chi Minh City. Therefore, the products at the factory certainly possess preferential prices, the best service, and do not lose too many other costs. Our cosmetic bag is one of the unique products at the factory. Selected by many businesses and fashion shops.
L'eco cosmetic bags become unique and well received by many people.
* * Unique, impressive design and get a custom design.
This is a unique feature, which many establishments and shops choose L'eco as a place to cooperate. Because we can understand the needs of our customers for cosmetic bags. We provide free and customized design services. Meet the perfection and create the most satisfactory bag.
Besides, we also bring a variety of unique, impressive, and fashionable designs. Help create more inspiration and impressions for people.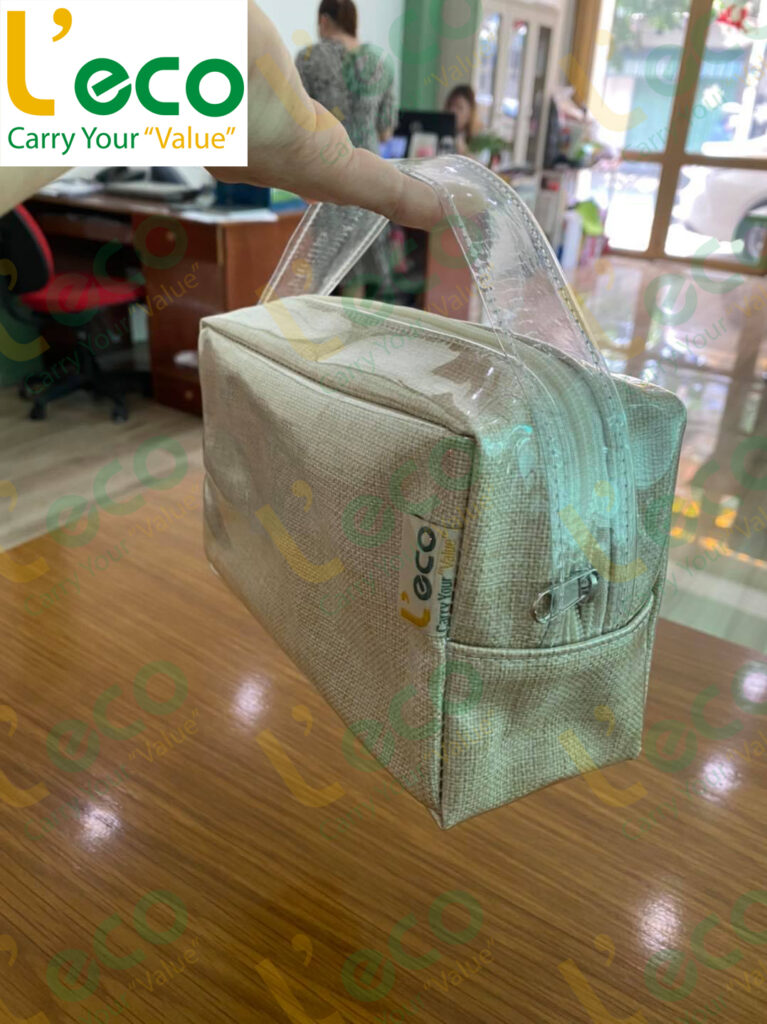 * * Environmentally friendly
The products at L'eco garment factory are all environmentally friendly products. With the goal of contributing to the protection of the environment. Our cosmetic bags are manufactured with materials such as non-woven fabric, canvas, jute fabric,… . Help create more impressions for users.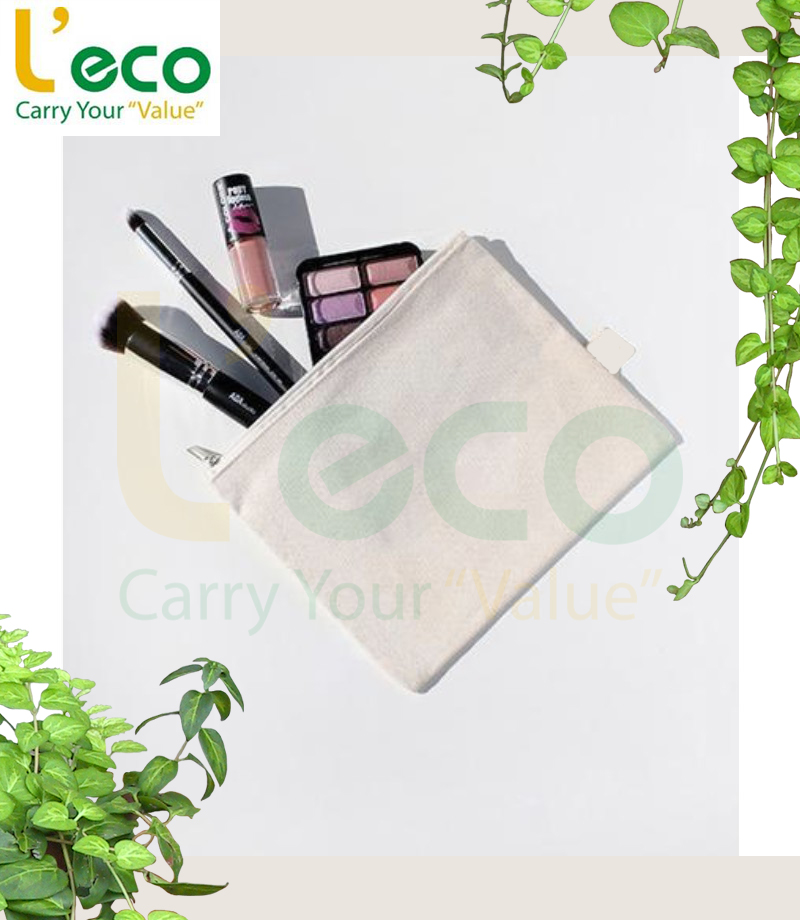 * Extremely durable and sturdy
Prestigious, quality cosmetic bag, sewn with careful and beautiful lines. So it is very durable over time and can be reused many times.
* Accept production according to demand
As a direct garment factory, L'eco accepts to manufacture cosmetic bags according to customer needs. Helping customers get the best quantity and quality of products.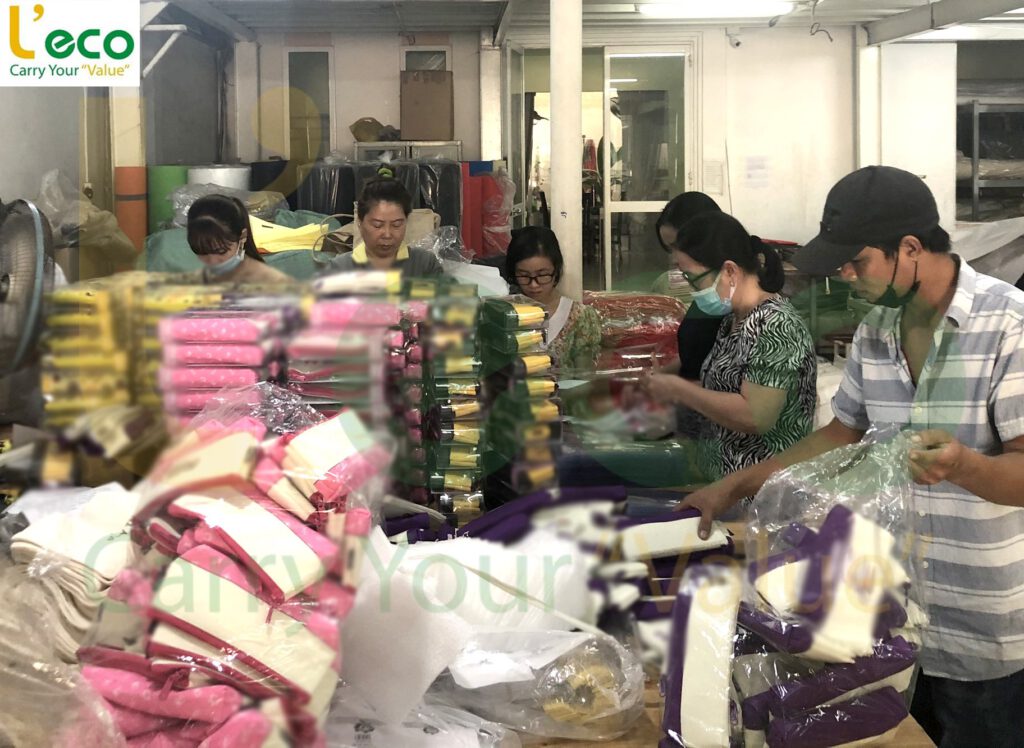 Although L'eco cosmetic bags are cheaper than other cosmetic bags on the market. But the quality that the bag brings always surprises users when used and the stylish design it brings.
Therefore, cosmetic bags at L'eco are very sought after and suitable for everyone. If you are looking for cosmetic bags in Ho Chi Minh City, don't forget to refer to the bag products at our bag sewing factory.
---
An Van Thanh Production Trading Company Limited – L'eco

Specializes in supplying and manufacturing canvas bags according to customer needs. With 14 years of experience in manufacturing and exporting canvas bags. L'eco can meet all the needs of bags for businesses and shops. Ensure product quality and create a reputation for businesses.
Our bag products include:
+ Non-woven bag
+ Canvas bag, dad
+ Polyester fabric bag
+ Jute bag
+ Laminated PP bag
+ Vest bag
+ Cosmetic bag
+ Bedding bag
+ Wine bag
+ Gift bags, conference bags, events
+ New Year gift bags, Tet calendar bags,…

All of our products are manufactured according to the needs of our customers. Helping customers get the most impressive and satisfying products. L'eco always aims at the values ​​of life and the environment to join hands to protect the beloved environment.
Please contact us through
– Hotline: 0988.647.152 – 0903.696.477
– Mail: info@leco.com.vn
– Workshop: 70 Nguyen Van Tao, Long Thoi Commune, Nha Be District, Ho Chi Minh City.
– Learn more at Fanpage: Non-woven bag – L'eco
– Tumblr: Canvas Bag