WINE BAG HOLIDAY TET
New year comes the need to buy a gift bag as much. Each business has the goal of choosing its own gift bag for customers. Alcohol is also one of the products chosen by many businesses to give in Tet holiday. To add value to a gift, a wine bag cannot be missed.
Wine bags have many models for customers to choose from 1 bottle – 6 bottles depending on customer needs. Besides bags are also made from many other materials such as non-woven fabric, canvas, jute fabric … diversity.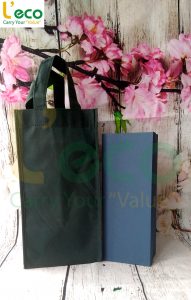 The outside of the bag is printed with plum blossoms, cherry blossoms, animal of the year and wishes. Thereby expressing the giver's respect to the recipient. Helping to increase a relationship together adds a bond.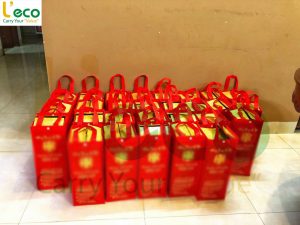 Wine bags are manufactured and tailored to customer needs in terms of color, size and printing information.
The quality of the bag is carefully checked before it reaches the consumers.
In addition to wine bags, we also produce other Tet gift bags from materials such as non-woven bags, canvas bags, polyester, jute fabrics, nets, … to meet all the needs of customers during Tet.
All information related to:
Hotline: 0988,647,152 Ms Chang
Mail: info@leco.com.vn
AN VAN THANH TRADING PRODUCTION COMPANY LIMITED 
70 Nguyen Van Tao, Long Thoi Commune, Nha Be District, HCMC